Hikinng Saison: Toute l'année

Sur la partie sud de Toluca, nous pouvons visiter un volcan Beatiful avec des lacs à l'intérieur, qui est le nom que les habitants de Xinancatecatl antique. Il a une altitude de 4600 mètres d'altitude. et il est la quatrième plus haute montagne au Mexique.



1 jour treking


Nous commençons par une promenade à travers un cratère, puis plus loin, nous arrivons à un champ de roche meuble qui se termine par une crête menant à un labyrinthe de roche après quoi, se trouve le sommet.

· Les guides de montagne parler espagnol ou en anglais


Coût :

plus de 7: 80 USD chacun

4-6 personnes: 90 USD chacun

Coût: 2 à 3 personnes: 130 USD chacun

Coût: 1 personne: 250 USD



Si vous voulez aller à cette montagne, vous pouvez nous écrire:

about the mountain
This is Mexico s fourth highest mountain, after the Pico de Orizaba, Popocatepetl, and Iztaccihuatl. (By some measurements, however, the Sierra Negra is slightly higher.) , and it is unique in taht one can drive into the crater of this volcano, Nevado de toluca has two summits, the higher Pico de Fraile (Friar s Peak) at 4 680 meter
It is often called Xinantecatl, which is probably from the Nahuatl chinam(itl) 'cornstalks' + tecatl 'lord of', though other etymologies have been suggested. It is an extinct volcano located in central Mexico. This volcano has its higher summit at 4577 metres and in good weather it is clearly visible from the Mexican city of Toluca. An unusual feature of this mountainous formation is the existence of two lakes in small extinct craters within the caldera, the cold water Sun Lake and the Moon Lake. A road runs into the caldera, making this perhaps the most accessible major Mexican peak.
Nevado de Toluca Summit Great view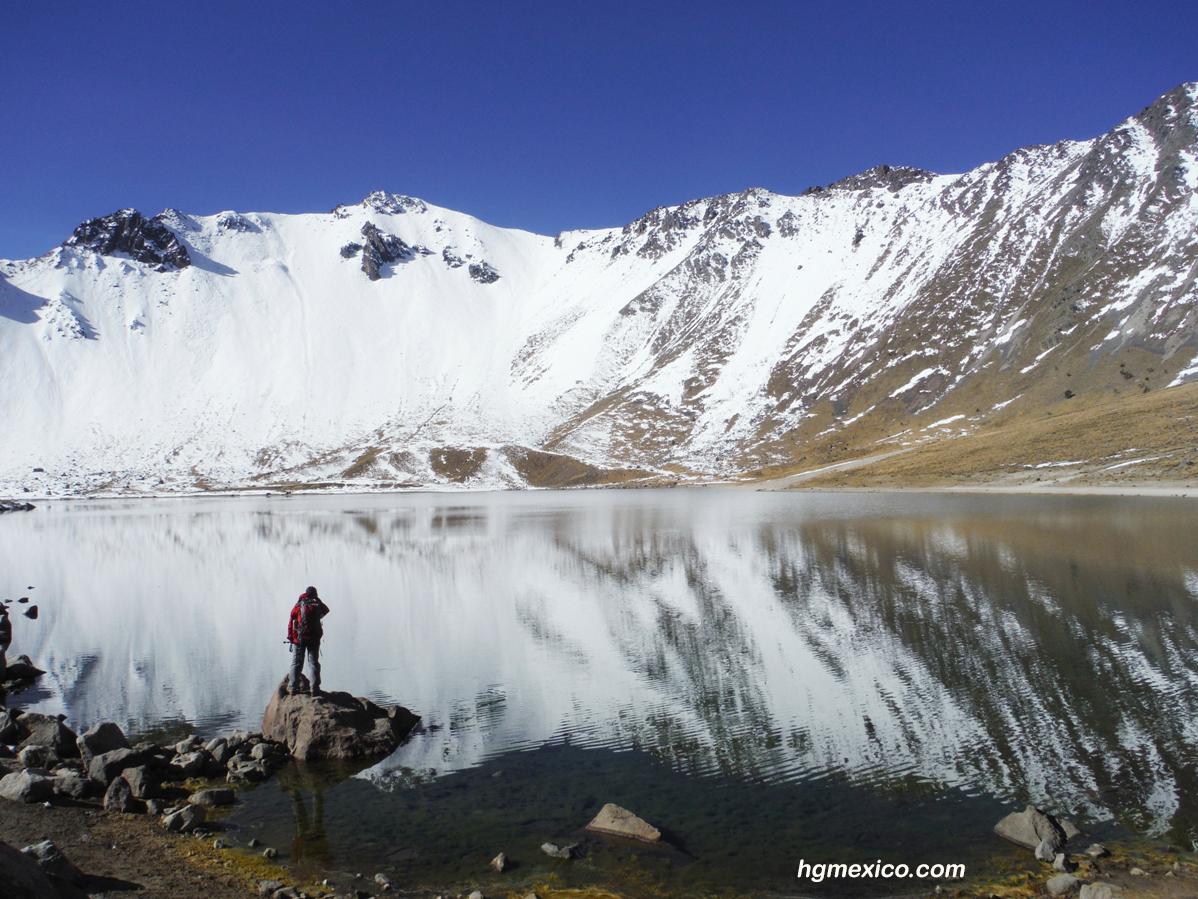 El Nevado de Toluca first Summit
Hiking on the Crater: Nevado de Toluca
watch the video clic on the picture up