Including :
All land transportation from Mexico City at the itinerary. (in Pico de Orizaba include 4x4 )

Mountain guides

in Spanish or english
Collective gear; ropes, carabineers, tends, etc. (optional personal gear like crampons, ice tools, sleeping bag, head lamp, etc.) please check our web site to see all the gear you need in mountain equipment, if you need some like crampons, ice axe, sleeping bag, etc.,we can bring free (only we have not all boots size).

Ascender certificate (diploma )

Mountain permissions

Communication with base camp and mountain rescue.

Water purified in bottle (you will bring containers).

Nights in hotel, or land hotel, in double room at th itinerary .

Hut or Base camp at the itinerary

Meals at the itinerary tiket to arqueological places at the itinerary
Without meals:

In this option (most recommended), you can bring your food, or by the way we can stop to buy food in a supermarket (like wall mart) and you can choose what is best for you, we bring stove with gas, dishes and accessories, also purified water in bottles 20 liters, so you can refill your water containers.

Cost year 2017- 18:

Four mountains 15 days without meals

Cost Each one American dollars

People

4 Mountains 15d

more than 10

1100

6 - 9

1400

3 - 5

1450

2

1550

1

2090

With Meals only at the mountain:

In this option we can include foods at the mountain (not including restaurants, no grocery stores) if you prefer this option you will comment when write us.

Four Mountains 15 days with mountains meals

Cost each one American dollars

People

Four Mountains 15d

more than 7

1590

5 - 6

1690

3 - 4

1790

2

1890

1

2390

Contact Us (more information):
Reservations and informations
Information
About altitude
Pico de Orizaba ( Citlaltepetl )
With an altitude of more than 5700 m (18871 ft.,) the highest Mexican mountain with an estimated altitude of 5685 meters above sea level , there is some debate regarding its height. quotes 5610 meter as a revised value. A significantly higher 5700 m is also frequently quoted.
Pico de Orizaba: It is the highest inactive volcano in Mexico. Situated between the states of Puebla and Veracruz, it is cone-shaped and has a crater with a depth of 300 m and a width or 400 m.
El Pico de Orizaba is located in the boundary between the states of Puebla and Veracruz, 106 km West of the Gulf of Mexico. The second prominent feature within the park is a 4600 meter volcano named Tliltepetl, or Volcan Sierra Negra, whose crater is at slightly less than 7 km distance of the Citlaltepetl crater. The young Citlaltepetl and the old Tliltepetl nowadays constitute a joint geological structure.
Climbing el Pico de Orizaba
Choices for climb el Pico de Orizaba
The good choice for climb el Pico de Orizaba with acclimatization is
IZTACCIHUATL - PICO DE ORIZABA
In another hand if you have a good acclimatization
PICO DE ORIZABA in 2 or 3 DAYS
If you have more time and want know good places
PICO DE ORIZABA (four mountains in 10 days)
PICO DE ORIZABA (four mountain in 12 days)
PICO DE ORIZABA (4 mountain in 15 days)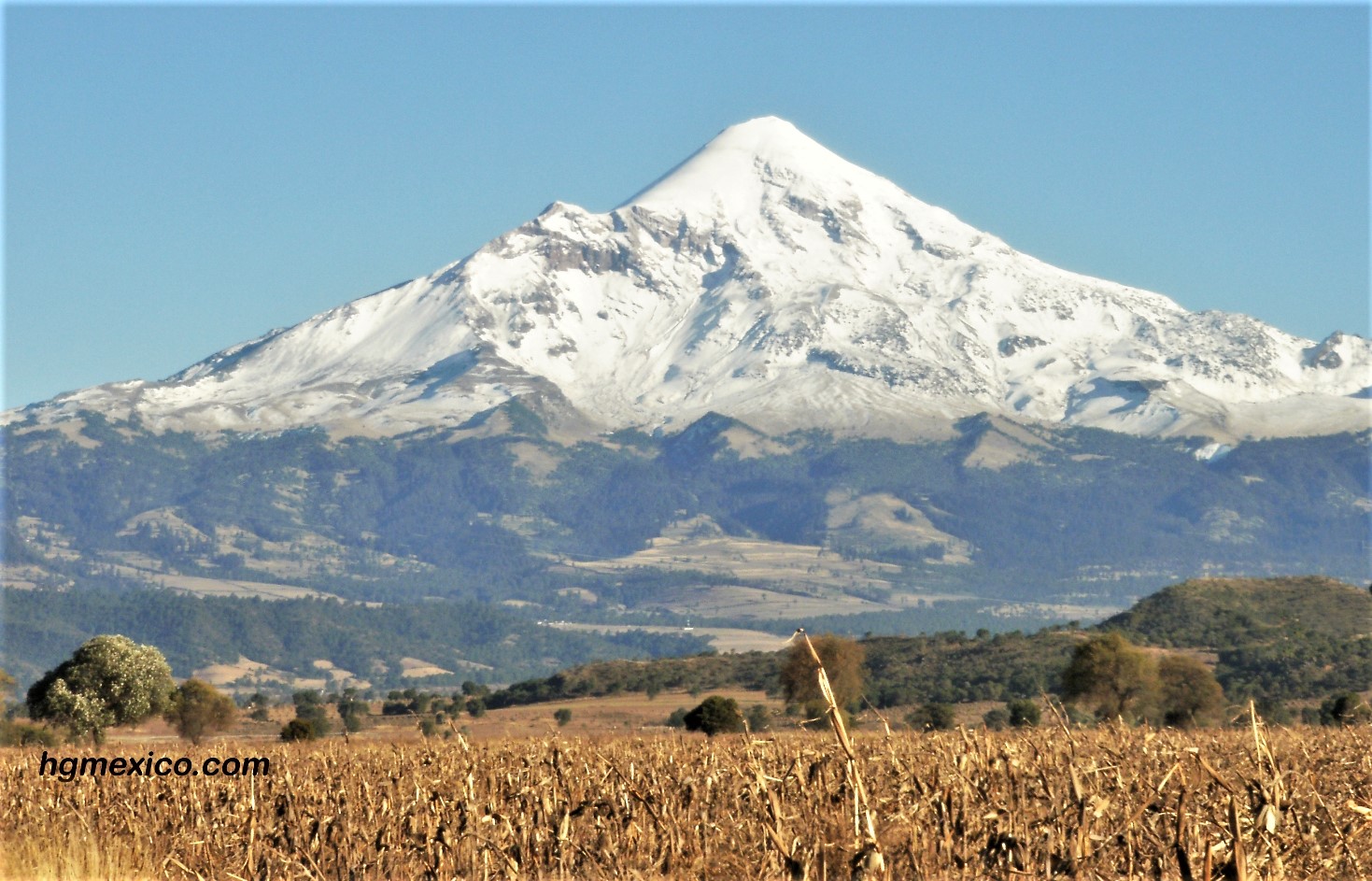 Pico de Orizaba west face
clic on the picture for watch the video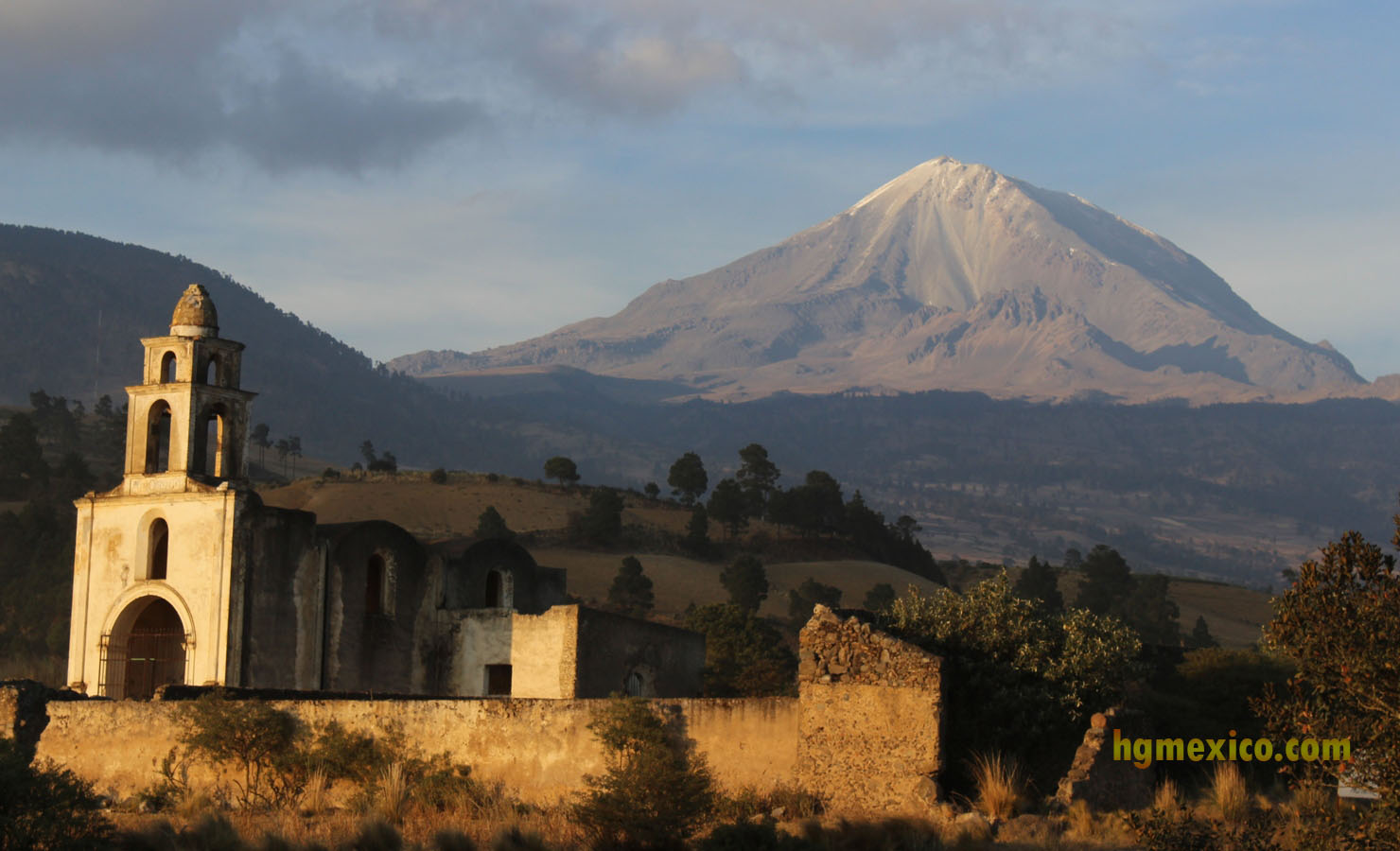 picture on the way to Pico de Orizaba ( Citlaltepetl ) from Serdan
______________________________________________________________
Where is Iztaccihuatl :
Iztaccíhuatl is located in Mexico
Location
México and Puebla, Mexico
Coordinates
19°10′44″N 98°38′30″WCoordinates: 19°10′44″N 98°38′30″
Iztaccíhuatl
(alternative spellings include Ixtaccíhuatl, or either variant spelled without the accent) (About this sound istakˈsiwatɬ (help·info) or, as spelled with the x, /iʃtakˈsiwatɬ/), is a 5,230 m (17,160 ft) dormant volcanic mountain in Mexico located on the border between the State of Mexico and Puebla. It is the nation's third highest, after Pico de Orizaba 5,636 m (18,491 ft) and Popocatépetl 5,426 m (17,802 ft).
The name "Iztaccíhuatl" is Nahuatl for "White woman", reflecting the four individual snow-capped peaks which depict the head, chest, knees and feet of a sleeping female when seen from east or west.
Iztaccíhuatl lies to the north of Popocatépetl, to which it is connected by the high altitude Paso de Cortés. Depending on atmospheric conditions the dormant volcano is visible much of the year from Mexico City some 70 km (43 mi) to the northwest.
The first recorded ascent was made in 1889, though archaeological evidence suggests the Aztecs and previous cultures climbed it previously. It is the lowest peak containing permanent snow and glaciers in Mexico.